BANKRUPTCY & CONSUMER PROPOSAL TESTIMONIALS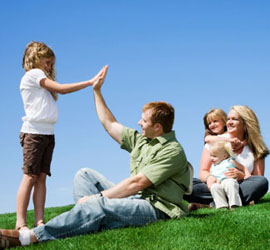 The Bankruptcy and Insolvency Act sets out a series of duties and obligations every bankrupt person MUST perform. Although we are by no means perfect, and issues with clients can arise if, as part of the process, the duties or obligations required by the Bankruptcy and Insolvency Act are not completed, the vast majority of the feedback we receive from our clients in Edmonton, and elsewhere, is extremely positive.
Where do our Client Testimonials come from?
The testimonials reflected on this website have been taken from and represent excerpts from a sample of the cards and letters we have received from our former clients in Edmonton, and elsewhere, taking care to protect the identity of the respective parties.

We would like to take this time to thank you for all your help and guidance during the most stressful time of our lives. We started this process terrified of what declaring bankruptcy would mean and how it would affect our future. Every person we had contact with in your office make the process become a positive experience. We not only learned about our spending habits that got us in that position to begin with but how to change them and move forward with a much brighter financial future. We will recommend your firm to anyone that finds themselves in financial turmoil. Thank you again for all your help and we would like to say in the most positive way possible that we will never need you services again!  LOL!

You came highly recommended by a friend who used you a couple of years ago. It was extremely hard for us to take the first step and give you a call. We felt like failures, but after we called you, we immediately felt better about our situation. Bankruptcy was definitely the right choice for us.

Thank you for all you assistance and help. You helped us recognize that all the stress and constant struggle with our bills was tearing us apart and most importantly, that we had options and didn't need to let it happen."

Thank you for taking time wit me. My English is not to good. Other places I contact would not spend time wit me. You were vary nice to me an explain well. I am done bankruptcy now and vary happy. Thank you vary much for all you do.

Thanks for taking the time to help my mother, and going to see her in her home. This was an unbelievable level of service and certainly not expected. With failing health, I know she really appreciated it."

We didn't know anything about bankruptcy. We thought you were going to take everything and that we would never get credit again. You helped us put things into perspective and thanks to you, we are happy to say that we got our Discharge without a hitch last month. Thanks for Everything!"

Thanks for all your help, especially to Kelly, who put up with all my questions and offered words of encouragement when I was stressed and bitchy!" We are Free! We are Free!

Going Bankrupt is something I thought I would never do, but in hindsight, I wish I had met with you guys and got it started sooner!"

I thought trustees were suits and that when I met with you I was going to be criticized for my stupidity. As dumb as I felt going into this, you always made me feel better about myself."

I can't thank you guys enough! My wife and I are back together and we don't fight about money, or the lack of it, anymore. We have our life back!"

Due to a number of factors, I found myself in need of a capable Insolvency Trustee and Cameron-Okolita did not disappoint. They guided me throughout the process of righting some wrongs from my past and I now have a fresh start and a new found appreciation and respect for my financial health and well being. I am grateful to all of the staff at Cameron-Okolita as they made this possible!

Cameron Okolita was recommended to me by a close friend. The one trustee firm that worked with me and respected my true financial situations. They  were excellent!! I didn't feel judged, or belittled, and was part of the process in taking steps to improve my situation. I felt so much better after it was all done and am actually in a better position financially, now.

Cameron Okolita have been extremely kind, so helpful and are easy to talk to. There is absolutely ZERO judgement. Call them for your fresh start, they are really incredible and so is what they do.

They really went above and beyond for me! As a client, you don't always know what goes into the back ground… But after going through some personal issues they were able to help me through it and provide guidance and help in many areas of my life. I am so thankful for them, they really care!
Send us an Email, Ask us a Question, Have us Call You!
Bankruptcy Trustee Edmonton
Cameron-Okolita Inc.
Edmonton Main Office:
9413 98 Ave NW
Edmonton, AB T6C 2C8
Phone: 780-456-9300
Bankruptcy Inquiry Line:
Mon - Thur: 8:30 am to 8:00 pm
Friday: 8:30 am to 5:00 pm
Saturday: 10:00 am to 3:00 pm
Sunday: Closed
Friendly and Easy to Talk To:
At Cameron-Okolita Inc., we are friendly, easy to talk to, and we pride ourselves on exceptional service, making our clients' needs our top priority.
Call or Contact Us Today! Let us help you get a fresh start and put the stress and worry of your finances behind you.

Edmonton Main
9415 98 Ave
Edmonton, AB T6C 2C8
Cloverdale Neighborhood
Phone: (780) 456-9300

Edmonton Downtown
By Appointment
10180 101 St, Unit #3400
Edmonton, AB T5J 3S4
Manulife Place
Phone: (780) 488-4810

Edmonton NorthEast
By Appointment
8104 160 Ave, Unit #100
Edmonton, AB T5Z 3J8
Elite Business Center
Phone: (780) 652-1065

Edmonton SouthEast
By Appointment
9807 34 Ave, Unit #101
Edmonton, AB T6E 5X9
Auto-Row Millwoods
Phone: (780) 461-5600

Edmonton West
By Appointment
10075 166 St
Edmonton, AB T5P 3W3
West Edmonton Commerce Park
Phone: (780) 487-8700

Edmonton SouthWest
By Appointment
304 Windermere Rd
Edmonton, AB T6W 2Z8
Windermere Plaza
Phone: (780) 652-1958

Sherwood Park
By Appointment
150 Chippewa Rd, Unit #116,
Sherwood Park, AB T8A 6A2
Sherwood Park West
Phone: (780) 652-2065

St. Albert
By Appointment
13 Mission Ave
St. Albert, AB T8N 1H6
Downtown St. Albert
Phone: (780) 458-6999
We can help you Avoid Bankruptcy!
REQUEST A FREE CONSULTATION